2019 was an excellent year for global and US stocks.
The US S&P 500 (SPY) gained +29% in 2019.
The tech-heavy NASDAQ 100 (QQQ) gained +35%.
The Vanguard Global Stock Fund (VT) gained +22%.
Emerging Markets (EEM) gained +15%.
I see a few factors driving the big gains in 2019.
Global economy expanded nicely: The global economy had a solid year of growth in 2019.
Corporate earnings hit a new all-time high: US corporate earnings hit a new all-time high in 2019.
The Federal Reserve lowered interest rates: The Fed lowered interest rates a few times in 2019 and that sent rates a multi-year low – that is a like a stimulus for stocks and the broader economy.
China Trade Deal: The US and China have reached the early stages of a trade deal. However, regardless of the exact details US stocks aren't very worried about this situation any more.
What to expect in 2020?
I am expecting to see some volatility from US stocks in 2020. As always there are lingering threats to the bull market.
US presidential election could cause some volatility in markets.
Stock valuations are getting into historically high levels.
Political uncertainty in the Middle East particularly Iran.
US, China trade relations could get cold again.
However, despite my expectation for some short-term volatility – I am expecting another solid year for US and global stocks.
At the highest level, when stocks have a monster year like 2019 it usually leads to another good year. Here are some more details from CNBC.
The S&P 500 is up more than 27% this year, the best run through Dec. 16 since 1997. But instead of this being a sign that the market is due for a pullback, similar situations in the past have resulted in gains in the final weeks and in the following year. The gains were typically more modest.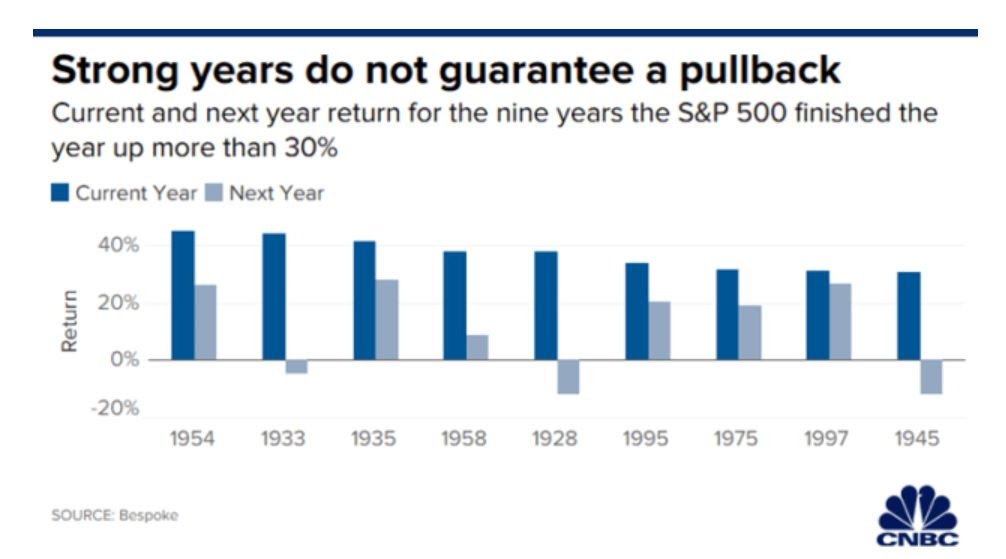 In addition to this correlation, a lot of the positive forces that were in play in 2019 will continue to be in play in 2020.
The global and US economies are both expected to grow nicely in 2020. This is another way of saying it doesn't look like a recession will hit in 2020.
Corporate earnings will hit a string of new all-time highs in 2020.
Interest rates will remain low.
My Prediction for 2020: S&P 500 up +10% to +15%.
I'm excite about 2020. I think it's going to be another great year for the stock market.
Happy New Year!!
Disclaimer: This report is for entertainment purposes only. Every investor should consult with an investment advisor before making investment decisions. The Vodicka Group, Inc. is not a broker/dealer. We do not receive compensation for mentioning stocks. At various times, the clients, publishers and employees of Vodicka Group, Inc., may buy or sell the securities discussed for purposes of investment or trading.